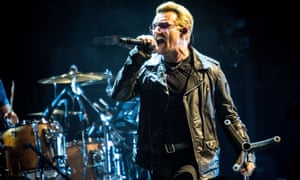 Singer Bono says Europe 'will be no more' if it is unable to cope with wave of refugees, as he and his band play Turin
Musician Bono has warned that Europe "will be no more" if a solution to the refugee crisis is not found.
The leader of U2 and his fellow band members drew attention to the plight of refugees and called for "humanitarian leadership" as they kicked off the European leg of their world tour on Friday night.
Bono, who addressed Turin's packed Pala Alpitour in Italian on a number of occasions, said on Saturday night: "We don't know what the answer to the refugee crisis in Europe and Africa is, but we know that if we don't figure it out, then Europe, which is a beautiful idea, will be no more. So we have to figure it out, whatever it is."
On Friday night, he said he did not have the answers to the refugee crisis but added we "must work together" to find the solution.
The band's bass player, Adam Clayton, spoke of the anger felt by Europeans, who he says are questioning why their governments cannot seem to "do the right thing".
The image of a three-year-old Syrian boy, Aylan Kurdi, washed ashore in Turkey earlier this week sparked outrage and calls for governments throughout Europe to do more to help the tens of thousands of refugees. Bono made reference to the shocking incident by changing the lyric of Pride (In the Name Of Love) to include: "One boy washed up on an empty beach."
In a set on Friday night that included more than two dozen of the band's songs, and at one point featured a screen showing footage of refugees, Bono said: "There is a lot of heartache in the world, but there is so much joy in here this evening.
"Thank you, thank you, thank you. It's incredible. Watching the news, ordinary people – all of us – seem capable of such great evil and such great love.
"I don't know the answer to the refugee crisis in Europe and Africa but I know we must work together to find an answer to the refugee crisis in Europe and Africa."
He added: "As Nelson Mandela said: 'It always seems impossible until it is done.'"
Bono asked the crowd: "What do you want? A Europe with its heart and borders closed to mercy? Or a Europe with its heart open?"
Clayton said: "We really like to be able to respond to things as quickly as possible and you know the way the migration really has been covered in the last couple of weeks, you can feel there's a lot of anger out there among the citizens of the European nations and they just don't know why their governments can't seem to kind of do the right thing or at least lead on these issues."
The Edge, U2's guitarist, said: "Every nation should step forward and do the best they can."
Asked if there was scope for a concert in the style of Band Aid to raise more awareness and funds for refugees, Clayton said: "I think that's a secondary issue. But I think primarily we're in a situation where we have elected leaders who need to show leadership.
"Because we don't know all the issues, we don't know all the information here. But definitely, we need to see some humanitarian leadership from Europe."
Commenting on whether U2 would get on board with a Band Aid-style event, The Edge said: "I think we'd take it very seriously, but again, as Adam says, it might not be the right response since it couldn't be any more high profile."
http://www.theguardian.com/