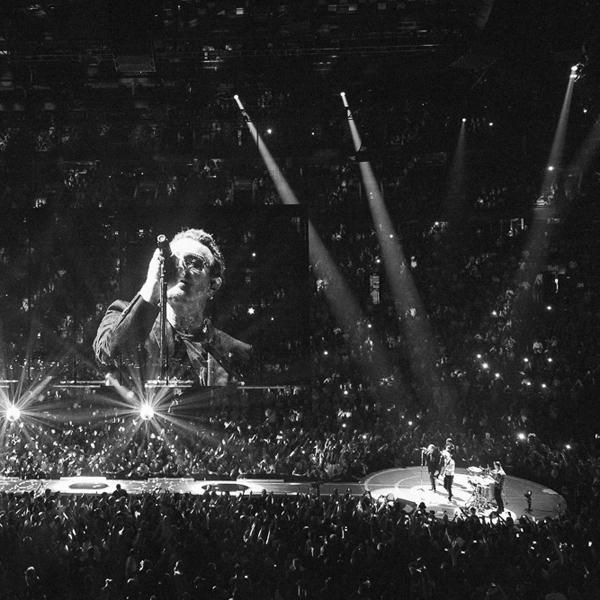 'Your eyes were like landing lights
They used to be the clearest blue
Now you don't see so well
The future's gonna land on you..'
Volcano erupting in Stockholm for the opening night in Sweden.
'It is a thrill to be here,' said Bono, catching his breath before introducing Iris. 'I don't know why but this band always feels like we're on our holidays when we're in Stockholm.
Seriously …The Edge wants to go fishing in the archipelago visiting the arctic circle to measure things ...he does love measuring things ...don't you The Edge?
Adam wants to go shopping on Library Street - bibleeoteksgothan - is that how you say it? - for girl's underwear. I mean not for himself - but for his wife... and sometimes mine!
Larry wants to trace his family history. Yes Larry Mullen is convinced that his blond hair is a Viking throw back. I'm not convinced he's Swedish but I am convinced he's a Viking alright…'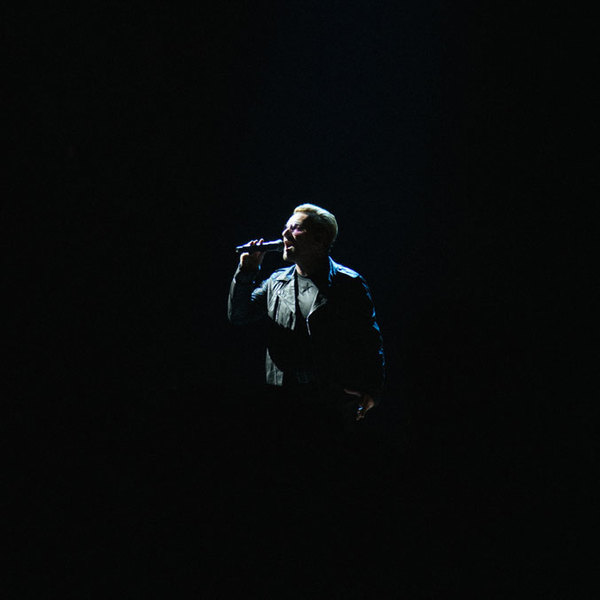 Second night...
October and the trees are stripped bare
Of all they wear.
What do I care?'
A song that never grows old, with a powerful and poignant new place in the European set. The opening of the show, we never mention that - Patti Smith introducing U2, the people with the power introducing the miraculous Joey Ramone.Another night, another introduction to the band from Bono. You never know what he's thinking.
'Wow.. that's a good start, are we moving' up? Guess yesterday evening was just a warm up! Look at ya.. Look at ya! You haven't changed a bit.. neither have we. Larry, you haven't changed. Larry Mullen hasn't changed.. that's 'cos he stays up late, he avoids daylight, and he has very sharp teeth. Larry Mullen.
Edge is looking more Edge-like than ever, very pleasant this evening in his zen-warriorness. And do not think that because you're all loved-up and newly-wedded that we haven't noticed the female energy on your side of the stage Adam Clayton...
In so many way these men have not changed since I knew them as boys…'
Another track we never mention is one that rarely fails to bring the house down, on this tour, the band lined up along the centre of the venue - Sunday Bloody Sunday.
'I can't believe the news today
I can't close my eyes and make it go away.'
According to the eagle-eyed observers at U2gigs.com, tonight was the 800th performance of Sunday Bloody Sunday.
'And the battle's just begun
There's many lost, but tell me who has won?'
Tonight Stockholm belongs to you.' Has to be Angel of Harlem and a guitarist (Philip from Poland) and drummer (Michael from Poland) are recruited from the audience to help the band out. The whole thing goes out on Meerkat to the world thanks to Simona from Italy. So many nationalities, notes Bono, 'It's like a Beneton ad.' Simona, incidentally, is getting good at dancing with the band. Tonight was her third call up. First Rome in 2005, then Zagreb in 2009 and now Stockholm.
* Mother and Child Reunion segueing into City of Blinding Lights brings a special shout-out to Melinda Gates, who's changing the world for the poorest people and 'who changed my world'. The night ends like this.
'I have climbed the highest mountains
I have run through the fields
Only to be with you
Only to be with you...'
SUNDAY SHOW IN STOCKHOLM RESCHEDULED UNTIL TUESDAY
Due to a security breach, Stockholm's The Globen evacuated the audience from the building this evening.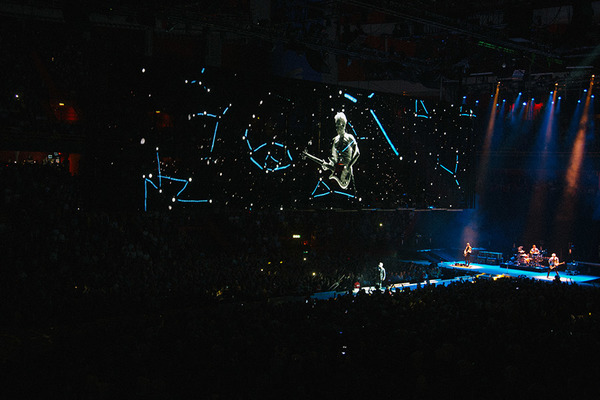 Third night:
We're very, very pleased to be in Stockholm and actually playing a show,' said Bono, introducing Iris at tonight's third show in Sweden. 'You might have heard, we had a security breach last night. I must say our audience handled it brilliantly, real cool...'
The police were all over the place. I mean all over the place.
Now that's not normal to want the police all over you but last night...
We have a message to the police, thank you for being cautious... and for taking care of our audience and the band.
It was hard to cancel the show last night but it was the right thing to do… and guess what, we get to stay here for an extra night.'
As Edge played the opening bars of Paul Simon's Mother and Child Reunion, Bono talked of the special role Sweden has played in the fight against extreme poverty and its history in welcoming refugees.
'That is the right word – refugee – migrant is just plain wrong. These people are running from broken homes, broken cities, running for their lives, running from a war zone…'
'It's a difficult problem but as Nelson Mandela said 'It always seems impossible until it is done.'
No-one could imagine, ten years ago, that we'd be within reach of the first HIV-free generation, but now we are. 'In the next few years, if we tell our leaders that's what we want, we can have this...'
'The mother and child reunion
Is only a motion away…'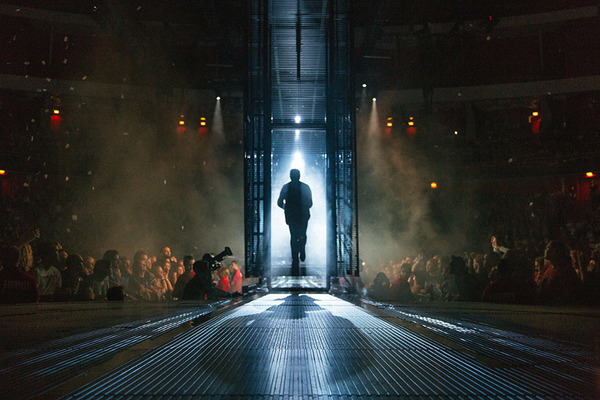 'Everybody having a good time except you.
You were talking about the end of the world…'
Great final night in Sweden, with Until The End of the World among the highlights.
http://www.u2.com/