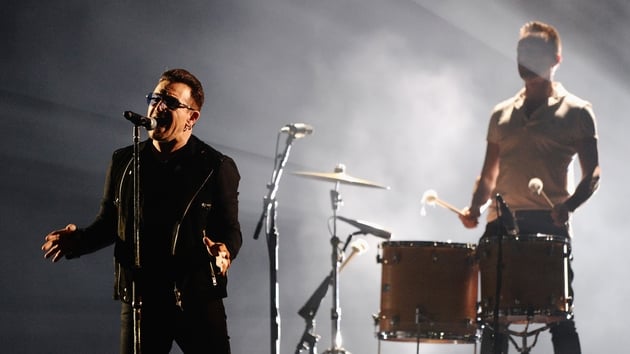 Bono will be out of action for "at least three months" following his bicycle accident in New York last week which saw him undergo five hours of surgery after he suffered serious arm and face injuries.
The Sunday Independent reports that the singer's injuries could postpone U2's world tour, which they plan to kick off in the US next year.
Bono sustained multiple fractures to his left arm, shoulder blade and injuries to his face after he came off his bicycle as he tried to avoid another cyclist in New York's Central Park.
He underwent a five-hour operation on Sunday night and had three plates and 18 screws inserted.
"The injuries will take at least three months to recover," a source told the Sunday Independent. "Bono plays guitar a lot, and his arm and shoulder will need extensive physiotherapy if he is going to be ready for the tour. It all depends now on how quickly he can recover."
U2 have hinted that their new tour, their first in three years, will see the band play smaller, more intimate venues to suit their new album, Songs of Innocence.
However, there have been suggestions that the band's Irish dates will be played at either Croke Park, where they have appeared ten times, or a possible debut show for the band at the Aviva Stadium.
http://www.rte.ie/