Six days in London ...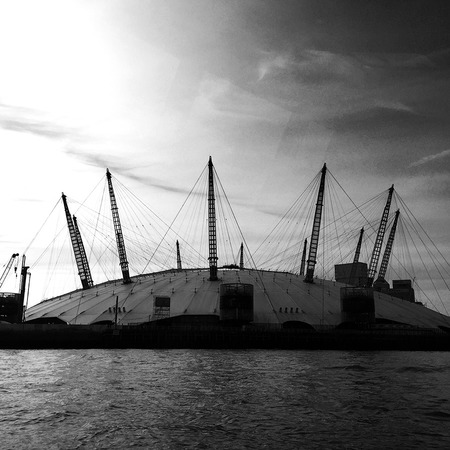 "The most beautiful sound..."
'I woke up at the moment when the miracle occurred
Heard a song that made some sense out of the world
Everything I ever lost, now has been returned
In the most beautiful sound I'd ever heard...'
'The Miracle (Of Joey Ramone)' opening up the first of six nights at the O2 in London.
"This is not a Monday night, this is Saturday night.'
And this 'Saturday' finished up with Noel Gallagher on stage for 'Still Haven't Found' and 'All You Need Is Love'.
Some great reviews coming in for the arrival of #U2IE in the UK.
'Always exhilarating, occasionally unsettling and overwhelmingly inspiring,' reported John Aizlewood in The Evening Standard. 'U2 convincingly re-stated their case for greatness...'
'This show showed that U2's mojo is back, and perhaps stronger than ever.' said James Hall in The Daily Telegraph.
'Even in minimalist (for them), stripped-down mode,' wrote Ian Gittins in The Guardian, 'U2's defiantly ambitious, meticulously choreographed live productions put virtually every other rock band to shame.
More coming up on night two at the O2 but if you were there, tell us what it was like and post your photos here.
First time tonight or seen the show again and again? What did you see that you never noticed before? As @AllyahsWorld put it on Twitter, '#U2ieTour is so creative and innovative that you can catch it again and again and experience it differently.'
"People have the power"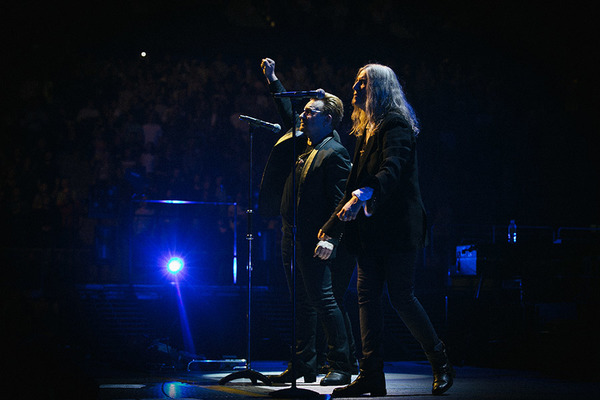 It's the track the band arrive on stage to every night and for the third show in London Patti Smith was in the house to take on the vocals.
Here's the NME report - which also quotes Noel Gallagher, reflecting on joining the band onstage on Monday for 'Still Haven't Found: "It was a dream come true..."
And this is Pitchfork.
Couldn't put it better than JoshTheTree it in our comments section, 'After the euphoria of Monday how could U2 top the last show? With New Year's Day, Gloria and Bad and bringing out Patti Smith. How cool was that?! Cool as f*ck. I was transported back to my youth with those songs. Many many thanks .... very happy. See yer tomorrow'
Did we mention Gloria, New Year's Day and Bad?
"All I want is you..."
You say you want diamonds on a ring of gold
You say you want your story to remain untold.
All the promises we make
From the cradle to the grave
When all I want is you...'
Fourth night in London and first time in Europe for 'All I Want is You'.
As @TheO2 tweeted, 'What an amazing crowd here for an incredible performance.'
"Volcano erupts in London"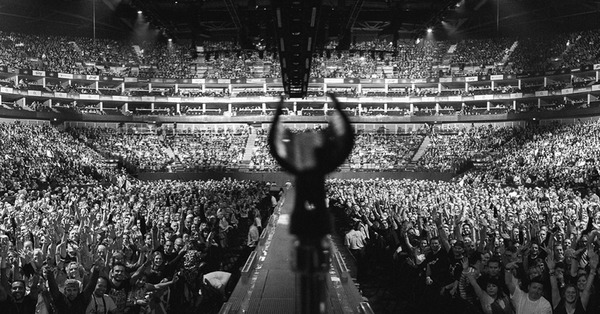 'Volcano, you don't wanna, you don't wanna know.
Volcano
Something in you wants to blow
Volcano
You don't wanna, you don't wanna know
You're on a piece of ground above a volcano...
There's something in the air tonight, and it's not just the spectacular mist swirling up from the Thames to envelope the O2 Arena. Inside, the atmosphere is building powerfully, too. Bono's over-brimming with autumn as he takes the stage: London, he says, looked like a Turner painting today - "incredible painted light". And with that, the band launches into their fifth consecutive London show (first time since the Boy tour - thanks, @u2gigs) with hardly a pause for breath.
The Miracle (of Joey Ramone) cascades into Out of Control, and then it's Vertigo. The O2 warns you not to buy a ticket in the gods if you have a fear of heights, but there's no fear in here tonight. I Will Follow has a few lines of London Calling for the locals, and there's even some David Essex, for those old enough to remember, at the end of an emotional version of Iris: "Hold me close don't let me go...".
He's thinking of "Alison Stewart" as well, tonight, before Song for Someone... "I miss her", he admits. Maybe it's because U2 are edging ever closer to home, but there's a relaxed feel within the intensity. Larry's introduced as a drummer and "so much more", by Bono, who pauses to think: "He hits things," he concludes. Edge even gets a quick shoulder massage from the singer during Streets.
But escapism this is not, and turning to the refugee crisis, Bono asks the audience, "What do you want? A Europe with its heart open, or a Europe with its doors closed to mercy"?
"Open," he continues, "you're open - and that's what makes Britain great."
The O2 was originallly built to celebrate the millennium, and fittingly tonight, both past and future are powerfully part of U2's present mix. Songs which take us back take us forward. Until the End of the World evokes the heady days of Achtung Baby when the Berlin Wall was falling, but it feels so, so right for now. Of the new songs, Volcano makes only its fourth appearance on this leg of the tour - "a song about the rage you feel after grief", Bono tells us.
"That was the most immense arena show I've ever seen" tweeted Neil Storey, a long-time friend of U2 from the Island Records days. "First time I saw them, they played to an audience of 7. Edge broke a string, everyone gathered round as he changed it. Tonight, it was to 17,000 ... but it was just as intimate."
Jimmy Page is in the house, and he's acknowledged during One, while Beautiful Day is for Matthew Freud (it's his birthday). It may now be November, but October seems to capture the spirit perfectly, and before the crowd streams back out into the London mist, Bono returns to his autumn theme. "What a blessing it is to be in your city, on the river, as the leaves change colour. What a blessing it is."
Kingdoms rise, and kingdoms fall, but U2 go on again tonight.
"Wide awake in London"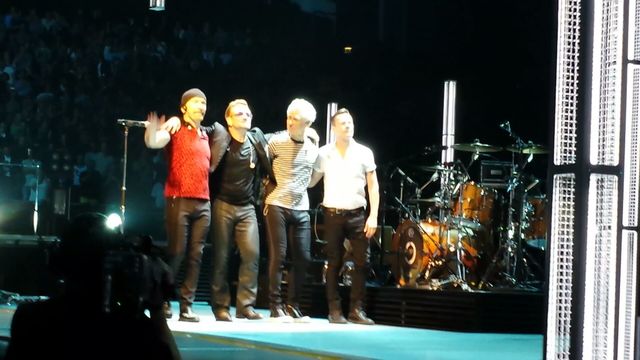 'If you twist and turn away
If you tear yourself in two again.
If I could, you know I would
If I could
I would
Let it go...'
No finer way to close a run of six great nights at the O2 in London than with 'Bad' and '40'.
http://www.u2.com/