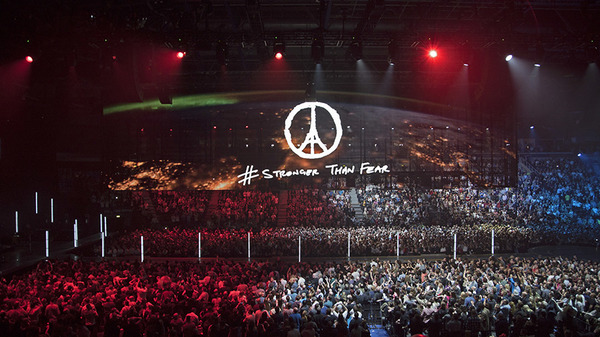 First show in Belfast for 18 years, first show since Paris and lots of fans taking part in #whiteoutbelfast to 'make a statement in the name of peace, love and music and pay our respect to the victims of terror and violence all around the world.'
Powerful and poignant. #strongerthanfear
'What's going on?', asked Bono before introducing Iris.
'Turns out an awful lot since the last time were here... you lot are heroes to all of us... It's great to be back in the heart of Belfast...thanks for sticking with us.
'If you'll indulge us for the next few songs we'd like to take you on a very personal journey to the Northside of Dublin, to streets not far from here that gave life to this band... it's the view of a teenage boy – forgive me the melodrama when a lot of you have had much greater dramas to deal with...but those first fights in the playground, first loves, first losses...they also form you.'
'U2's first Irish show of their iNNOCENCE + eXPERIENCE tour - and, amazingly, their first gig in Belfast since 1997 - was a triumph of pure rock theatre.' reported RTE, noting the closing encore tribute to events in Paris. 'The encore is deft and deeply felt. To a dazzling visual display of Paris at night, U2 perform a shimmering City of Blinding Lights for the City of Light.
Urgent, political and still hungry after all these years, this latest incarnation of the U2 live show is never less than gripping.'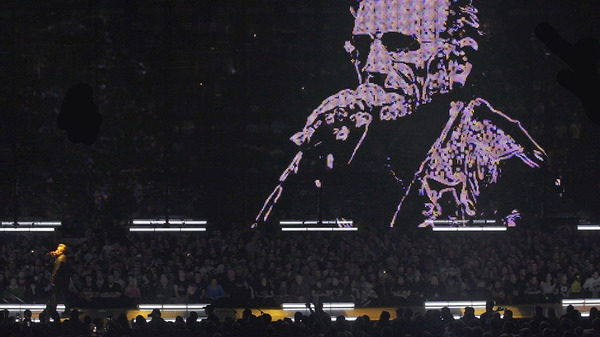 Powerful new visuals for Sunday Bloody Sunday and Raised by Wolves among the highlights on the second night in Belfast.
Out of Control was back in the set tonight, after missing six shows, according to @U2gigs, who also noted that the last time time the band played more than one show in Belfast was back on the War Tour. In fact it was 36 years and four days ago that the band first played this city, at Queens University, their first show outside of the Republic of Ireland, when they were on the bill with poet Patrick Fitzgerald and, headline act, Squeeze, featuring Jools Holland.
'Streets' really took off tonight, from the moment Bono introduced it as a prayer, 'that we don't turn into a monster to defeat a monster.'
The press seem to agree, as the Irish Daily Mail put it, 'There was simply nothing old or hackneyed about this show and new bands could learn a trick or two from the sensational production values. And thanks to a giant mobile screen, the band once again brought a live concert experience to a new level.'
Or The Irish Daily Mirror: 'From the time the first chord is struck until the last note is played, fans will be captivated by a mesmerising performance that's a lot of fun. While the visuals and lighting effects are spectacular, most of the messages are in the music, the songs from the 80s right up until the present day which still speak to fans old and new. This is a perfect performance from band on form at the top of their game.'