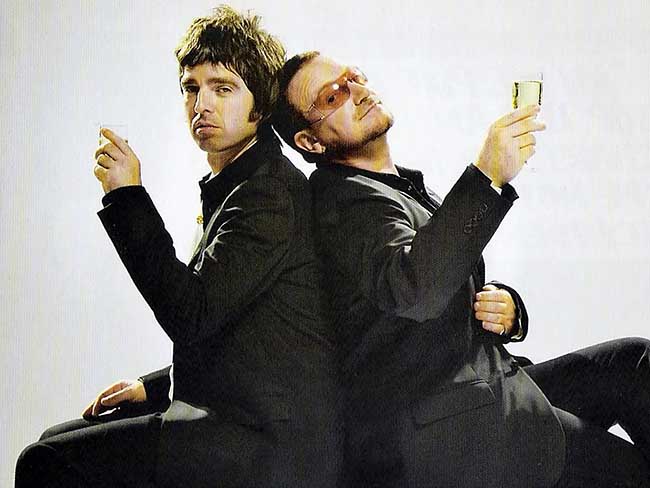 Bono thinks Oasis rock. Superstar, Bono – the frontman of rock band U2 – has said he's been introducing his 17-year-old son Elijah to the music of the 1990s, including bands like his friend Noel Gallagher's old group Oasis. The 56-year-old rocker has took it upon himself to give his kids – two daughters, Jordan, 27, and Eve, 25, and two sons, Elijah, 17, and John, 15, his children with his wife Ali Hewson – a musical history lesson. Bono is great friends with former Oasis guitarist Noel Gallagher and he has been playing Elijah the Manchester group's most famous tracks and introducing him to other classic 90s indie rock.
He shared: "I mean he listens to … I mean Elijah's been, I've just been going through the 90s with him. Noel Gallagher, Stone Roses, Oasis, all that. He's rediscovering that and I'm rediscovering it with him. On vinyl." And the 'With or Without You' singer – whose real name is Paul Hewson – also credited his four children for helping him through "house parties", as he admits they're better at planning the events than he is. Asked where he keeps his record player and what he uses it for, Bono said: "It's in our kitchen. So is Edge's. At home we do have house parties, though some of the better ones are now done by my sons and daughters. But we've been playing all kinds of things. "Yesterday we listened to the new Eagles album. I'm not talking about the Californian band, but I think they're from Leeds, maybe. I think they're from the UK, which was really great." Bono is currently gearing up to head out on tour in support of the 30th anniversary of U2's seminal album 'The Joshua Tree' – a tour on which the Irish stadium legends will be supported by Noel Gallagher's High Flying Birds.
The singer has apologised to fans who will have to travel far and wide in order to make one of the exclusive shows, but has promised the concert will be "special".
Speaking on UK station BBC Radio 2 on Chris Evans' 'Breakfast Show', the 'Beautiful Day' songwriter said: "Originally we were just going to do a few shows, and I apologise to people in Scotland and Wales who have to come down to Twickenham (in London), or indeed in Dublin we could only do one show. "We were only supposed to do three or four or five, we're doing I think nearly 40 now across America and Europe. But as I say we don't do birthdays, we're more weddings and bar mitzvahs actually, but this seemed to be something to do. And yeah, we'll see what happens, but it's a special album of songs for sure."
http://www.fashion.ie