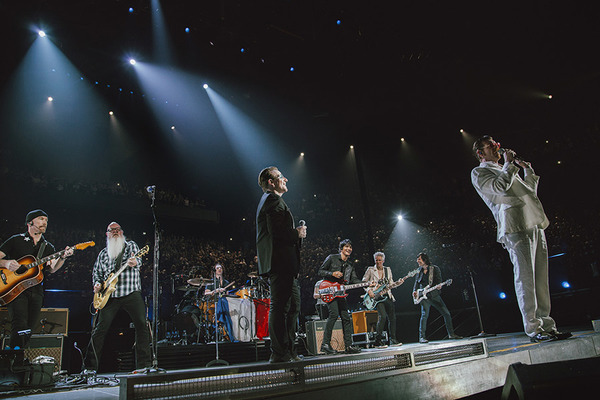 We want to introduce some people whose lives will forever be part of this city…' explained Bono. 'These are our brothers, our fellow troubadours they were robbed of their stage three weeks ago. We would like to offer them ours tonight. Welcome The Eagles of Death Metal.'
The Eagles of Death Metal were the surprise guests at the end of tonight's final show in Paris.
Three weeks after the deadly attacks at their show at Le Bataclan, the band were back on stage in Paris, receiving an ovation to raise the roof, they joined U2 to perform Patti Smith's The People Have The Power. They then stayed on stage to perform a track of their own, 'I Love You All The Time.'
Tonight's show was one of the two rescheduled from U2's visit to Paris last month and the seventy sixth and final show of the iNNOCENCE & eXPERIENCE Tour (seventy seven if you include the club night at the Roxy in LA ) which opened in Vancouver back in May.
Another highlight tonight came when the band played the e stage, where all tour long different fans have joined them on stage for Mysterious Ways. Following a competition on U2.com, tonight nine of those fans, from different cities in North America and Europe, had flown in to Paris to be at the show.
One of them, Trish, found herself up on stage again, grooving gracefully through Mysterious Ways and then shooting the Meerkat moment... at which point all the stage-divers were up with the band and rocking the joint through Elevation. 'What a collection you are,' said Bono 'Thank you all.'
And what a great way to mark the close of the 2015 shows, the Fourth Wall well and truly down again.
Message from Eagles of Death Metal via Facebook:
We want to offer our heartfelt thanks and appreciation for everything our brothers in U2 did for us in the aftermath of the November 13 attacks. They reminded us that the bad guys never take a day off, and therefore we rock 'n rollers cannot either…and we never will. We are incredibly grateful to U2 for providing us the opportunity to return to Paris so quickly, and to share in the healing power of rock 'n roll with so many of the beautiful people – nos amis – of this great city. Thank you to Bono, The Edge, Larry and Adam, thank you to their wonderful management, thank you to France, and thank you to everyone in the world who continues to prove that love, joy, and music will always overcome terror and evil. We look forward to fighting the good fight on many more fronts very soon, especially when we pick up our tour in 2016. See you again in February, Paris

www.u2.com