"October" in October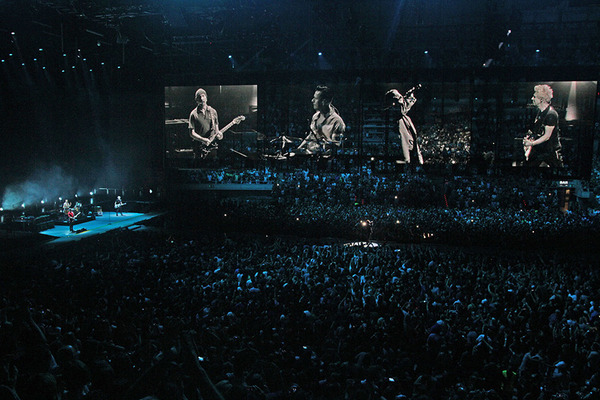 "October and the trees are stripped bare
Of all they wear.
What do I care...'
First of four shows in Barcelona, and the atmosphere was rocking by showtime.
Three songs in and no language barrier here: was that the loudest ever opening to Vertigo? 'Uno, Dos, Trez…Catorze!' The crowd can turn up the volume in this city.
The energy in the house moved from floor to stage and the band were delighted to be back in Barcelona, as Bono noted before introducing Iris.
'Look at you! You look great - haven't changed a bit!
'Even as we circled over your great city today, got this feeling that this is a city that serves beauty and loves artists.
'That's why artists love Barcelona because Barcelona loves artists.
Painters, architects, rock stars... we are here in your city for the next week and at the end of the week we'll give it back to you.
'And now we want to take you to our hometown, to the northside of Dublin where myself and my bandmates are from…'
On opening night in a city, always plenty of people noticing Adam's choice of T-Shirt. It was a shirt with the date 13th Sept 1997, #U2 played in Barcelona Popmart'
The whole house singing 'Ole' after 'Elevation' and then the whole house singing 'The Sweetest Thing', making only it's third appearance on this European leg.
'Not being able to play the guitar has given me a great opportunity to play the piano…' joked Bono, before Edge took over the keyboard for 'Every Breaking Wave'.
Did we mention 'October' in October? The first time this evergreen track has been played during the month of October since 1989 and Memorial Drive Park in Adelaide, Australia. No-one could have predicted how this song could find a new meaning all these years later?
Shoutouts tonight for Paul McGuinness and also for Shakira, who told her huge social media audience just where she was at: 'At U2's awesome concert! Shak.'
'TONIGHT THIS CITY BELONGS TO ME...'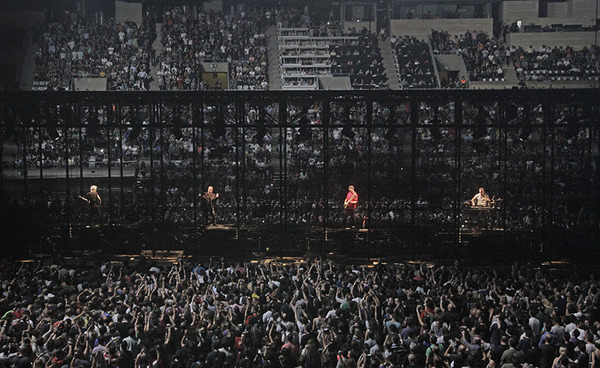 'New York like a Christmas tree
Tonight, this city belongs to me,
Angel...'
Barcelona actually, but who's checking? What a night... and by the way, who said it was Tuesday?
'This feels like the best Saturday night ever,' as Bono put it after Harry stepped off the stage, following a very accomplished guest guitar slot for Angel of Harlem. 'Very cool Harry, very relaxed...'
BEAUTIFUL NIGHT IN BARCELONA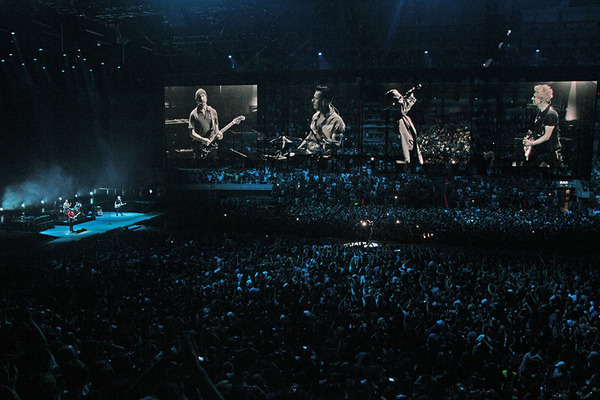 'You're on the road but you've got no destination
You're in the mud, in the maze of her imagination
You love this town even if it doesn't ring true
You've been all over and it's been all over you...'
As fresh as ever, Beautiful Day, fifteen years to the day since release. Pretty great show again tonight and as Bono put it, 'We love your city, we love your country...
Felt like the feeling was mutual right from the get go.
'This is great, we should do this every Friday night... We can be like the house band in Palau Sant Jordi... every Friday night.
'We've been getting out and about in your home town, some eating, some drinking… and then some repenting for the drinking at Sagrada Família. That was a beautiful church to have been in... spectacular.'
Also some cycling into the country, along the beach… and some watching of the football, as Ireland qualified for next year's European championships, beating Germany, the World Cup holders. 'A very historic event happened… and we had to go back to the pub.'
Something extra special about Invisible tonight, the way the show kicks off again, how you don't know where the band are playing from… until they become visible.
Wearing a tinsel halo, an 'angel of Barcelona' was up on stage for Mysterious Ways and to send Desire out around the universe. 'All this technology so we can get close to our people.'
And then a surprise. 'OK Edge, what do you want now?' Ok, we don't play this one every night...'
They bust out Volcano for Barcelona!'
And Bono becomes one with the audience, crowd-surfing along the i stage.
Back after 9 shows, and only the third time in Europe, that's its tenth performance since release on Songs of Innocence - including a TV debut for Later With Jools Holland. (Thanks @U2gigs).
Not to forget 'Bullet', The Edge channelling something even more powerful than usual.
Bono noticed: 'What is going on with The Edge - that was pretty special.'
Did we say it was fifteen years to the day since Beautiful Day first arrived? That's a song that never stops giving.
SPANISH EYES IN BARCELONA
S'
'Wey, hey, baby hang on
Wey, hey, baby hang on
Hang to your heartbeat, tight as a drum
Hang on to your love, see it shines like a song
Wey. hey, hey, baby hang on
Our love shines like rain
In those spanish eyes..'
What a show to finish up in Barcelona tonight.
In blue feather boa and cowboy hat, took a moment to realise that that was Javier Bardem on stage, grooving through Mysterious Ways - he's got some moves.
And then, in her platinum blonde bunny girl wig, it was the turn of Penelope Cruz... to try and get Javier off stage.
He wouldn't leave until he'd had his photo taken with everyone in the band and when he was finally escorted away, Penelope stayed to shoot 'Desire' live on Meerkat worldwide.
Great moment with a great couple of Spanish actors and activists and then - it had to be - 'Spanish Eyes'.
A song that made its live debut in Madrid in 1987, this was only the fourth time it's been played in all the years since.
www.u2.com