Four intense nights in Berlin for the iNNOCENCE and eXPERIENCE tour.
On the first night: Zoo station.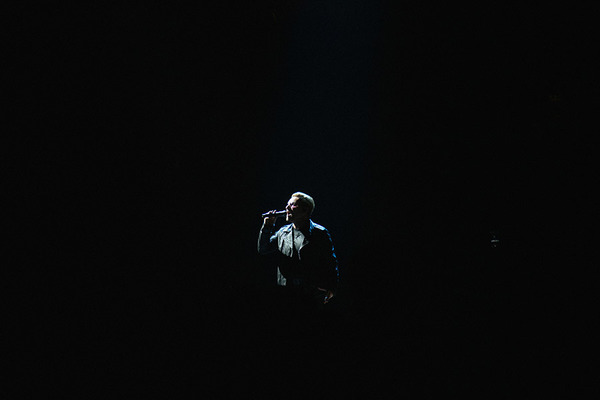 O
'I'm ready
Ready for the laughing gas
I'm ready Ready for what's next...'
Zoo Station into the show to mark the band's arrival in Berlin, Germany... a song made just down the road at Hansa Studios. Went down pretty well online. And after a blistering opening quartet of songs, Bono paused before 'Iris'.
'Here we are in the heart of Europe. The beating heart of Europe. We have many many friends here..sometimes we feel a little too at home here...'
According to the people who know these things (@U2gigs), this was the tenth time the band have played Berlin - they first performed here in 1981 on the Boy Tour. The city was written through the show tonight - with seven songs from Achtung Baby, the album that was born in this city nearly a quarter century ago. Extraordinarily resonant moment when the great graffiti-strewn wall fell from the roof, dividing the venue in two for the The Fly - just like a wall once divided a city and a country. Zoo Station was the biggest surprise, the first time it's been played live for nearly ten years, along with a snatch of Ultraviolet in Beautiful Day and everyone on song for One which closed the night.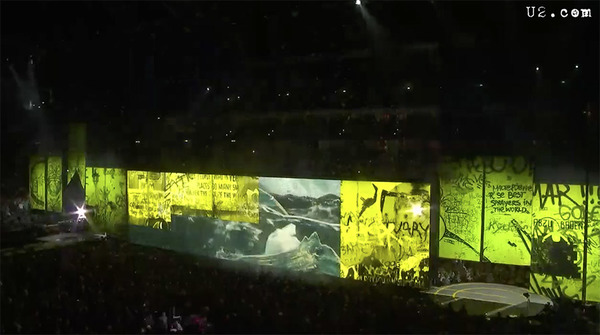 'Last night was strong but I can see tonight is going to be even stronger,'said Bono, catching his breath after The Miracle (Of Joey Ramone), Electric Co, Vertigo and I Will Follow.
'Berlin knows what to do on a Friday night.
Berlin knows what to do with the Irish cousins...'
And Berlin is also host to a special anniversary tonight, marked with respect to Herr Mullen, for 'making that great invitation to us, thirty nine years ago... wow!'
Bono returned to the theme introducing Every Breaking Wave.
'I saw that notice and I wanted to be in a band but I didn't think I could be but a friend of mine, Reggie Manuel, the Cocker Spaniel, talked me into it and took me to Larry Mullen's house on his motorbike.
Reggie Manuel, the Cocker Spaniel, is in Berlin tonight and I want to sing this song for him…'
Good to have Reggie in the house tonight and good to have another special guest appearance - underlining the Achtung Baby Berlin vibe in his slicked back hair, devil horns and gold lame suit, and grooving all the way down the stage for Mysterious Ways.
'Wow Mr Macphisto, haven't seen him in a while...'
Special intro to Beautiful Day, as Bono prepares to fly to New York. 'Well tonight, as we sing, as we pray, world leaders at the United Nations are adopting some new Global goals & it's a big deal' (@atu2)
There's a hint of Moment of Surrender as Beautiful Day ends - and it's another night in Berlin where we all surrendered to the music.
New Year's Day in Germany
'All is quiet on New Year's Day.
A world in white gets underway.
I want to be with you, be with you night and day.
Nothing changes on New Year's Day...'
No mistaking those opening chords and the roof nearly came off the Mercedes Benz Arena when everyone realised New Year's Day was making its tour debut.
All in all, it was a special night. As Bono put it earlier, 'This cannot be Monday night... it must be Friday night.' The band have been enjoying life in Germany.
'We've been hanging out here in your fine city... Yesterday we found a pub to watch the Rugby World Cup... and met some people who had come from working in the Syrian refugee camps in Jordan...
Some of them are here tonight, thank you to them for doing God's work.
It's been nice to walk around your home town. Next few songs we're going to walk around our home town... where it all began for us...'
And with that we were into Cedarwood Road. Later Bono mentioned that apart from catching the rugby in Berlin, he'd also found time on the weekend to fly to New York and back. He hinted at the reason in Beautiful Day - 'See the world in green and blue, Global Goals right in front of you' - and then explained some more.
'I had a bit of a mad weekend.. I went to New York for 14 hours... for the launch of the Global Goals… a road map for how we might rid this planet of extreme poverty and turn around the climate crisis in the next 15 years.. so its a big idea…'
It was a moment to thank the people of Germany for their leadership in showing Europe how to respond to the refugee crisis. 'We love this Germany… we are in awe of this Germany.
'I saw your Chancellor, and she wants to make sure that in the next five years we have the first HIV-free generation. We can do that... we really can.'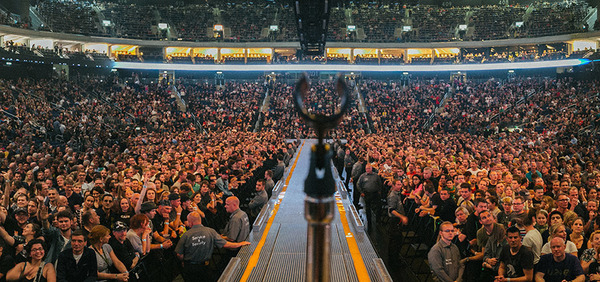 'Two hearts' on night four
I can't stop to dance
Honey, this is my last chance
I said, can't stop to dance
Maybe this is my last chance...'
All the way from 1983, Two Hearts Beat As One was the set list surprise tonight, only the fourth time in thirty years.
And special mention for film director, photographer and longtime band friend Wim Wenders who was in the house tonight celebrating his birthday, with Bono leading the audience in Happy Birthday.
'In Dublin, where we grew up, sometimes birthdays can go on for a very long time.. like if someone's really... something.. it can go on on for a really, really long time… and tonight is actually the official end of the great Wim Wenders 70th birthday party.. and he's here with us tonight and for Wim Wenders we would like you to sing… Happy Birthday…. what a gift dear friends to this country… great visionary… great man... it is indeed a beautiful day... gift to the world.'
It was always going to be a great night, this last one in Berlin.
'You have made us feel very special, explained Bono after I Will Follow. 'Thank you very much. Maybe you treat all your rock and roll bands like this… its ok... if it's a Summer romance.. just let us know.. but we've kind of fallen in love sort of thing.. we want to take the relationship to the next level.. we are kind of at the moving-in phase… we may not want to move-out phase.. We are liking Berlin a little too-much kind of phase.. but if we are gonna get married then you probably know some stuff about us, where we came from, how we started out... so where gonna take you to where we come from, to our home town… to Dublin, to the North side of the city… to the streets where we grew up.'
Amra, from Sarajevo - also known as @U2_ultraviolet - was volunteering with the ONE campaign at the show yesterday. Tonight she was up on stage for Mysterious Ways, dancing with the band. What a journey. Amra's first ever U2 gig was when the band played Sarajevo in 1997. During the 360 tour she met @harrykantas, another hardcore fan and now her husband. They've been all over this tour…
'I don't even know how this song ends.' said Bono, introducing Every Breaking Wave. 'It's not finished yet.'
And we can't not mention that a great show closed with Bad going into '40' - most people seem to think that is the finest ending to any U2 show ever.
'http://www.u2.com/