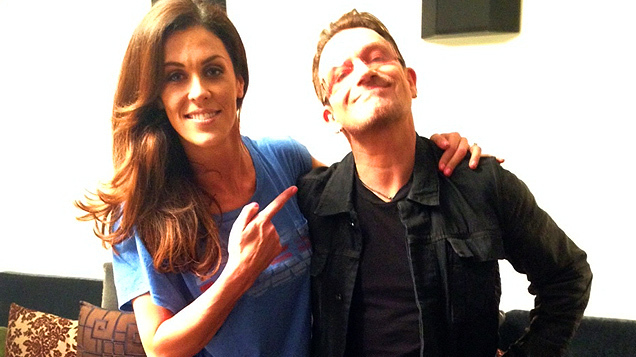 In an exclusive for TV3, Xposé presenter Glenda Gilson gets up close and personal with U2 frontman Bono ahead of this year's 86th Academy Awards.
Bono was more than happy to take time out from his busy schedule to chat to Glenda about being nominated for an Academy Award and U2's impending performance at this year's Oscars ceremony.
U2's "Ordinary Love" from the film Mandela: Long Walk to Freedom has beennominated by the Academy for 'Best Original Song', and although it is an unlikely winner, according to Bono, his main concern is doing the song justice by "connecting" on the night.
Speaking to Glenda from the Sunset Marquis Hotel in West Hollywood, Bono said: "The Mandela film was very present around the world. In the United States, it [the film] didn't have such a strong presence so I don't know, but it's just great to play it. Our job is to make these songs famous so being in front of a billion people or whatever, that's really what it's about, and I'm going to be very proud to sing the song. We really believe in the song."
"People don't know this but from going back in our teenage years in Dublin, the anti-apartheid thing was really big in Dublin and we did our first anti-apartheid benefit, I think we were about eighteen/nineteen years old, so we've been working for Mandela for a long time, so it means a great deal to us.
"But you know in the middle of all this schmaltz and Tinseltown glory, can we find it in ourselves to give a true performance? That's really the question I'm asking. Can we connect? If we can connect then I feel there's a reason to be there."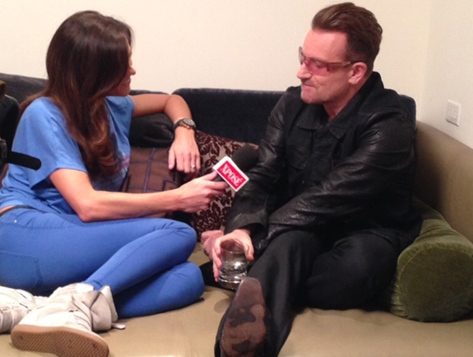 Bono also revealed to Glenda that he's been hanging out with fellow nominee, English actor and comedian Steve Coogan who he describes as "Irish in every other way". Bono said: "I've been meeting him; I met him at the Golden Globes at the Palm Springs Festival so I'm getting to know Steve. I was a big fan of Steve Coogan for years and years, so it's great when you meet someone and they're not actually an ass, they're even better than you imagined."
And when Glenda mentioned our very own Michael Fassbender, who is this year nominated for Best Actor in a Supporting Role for his role in 12 Years a Slave, Bono said: "I got a chance to hang out with him [Michael Fassbender] also and he is fantastic. He is someone that you or I would love to bump into if you were out of an evening. He's just great fun."
Glenda also spoke to Bono about his daughter Eve and her success as an up and coming actress. Proud dad Bono told Glenda about a new TV series that she will star in and also revealed how he was recently bypassed for an autograph: "Eve is flying. She's got a TV series on HBO coming up with Steven Soderbergh directing. It was shot in New York. It's a turn of the century thing set in New York, I think in 1920.
"I was out with her in some restaurant the other day and somebody came up and asked me for an autograph, at least I thought, and I said "yeah", and he just reached over to Eve. It was a great moment, really cool."
http://www.tv3.ie/