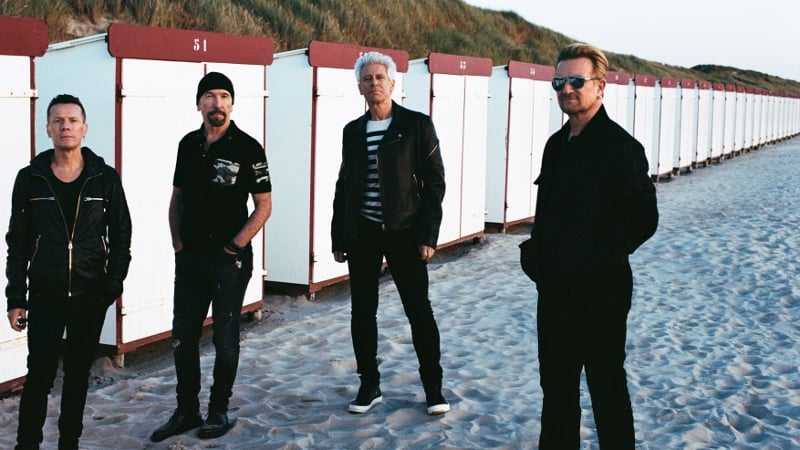 By Alan Corr
The band who tried to make the devil's music find religion face up to mortality and wrestle with geopolitics on their new album - so business as usual for U2 but there are fresh signs of vitality
U2, that most thoroughly un-rock `n' roll of rock `n' roll bands, are not so much shaking all over as aching all over on their 14th album. Songs of Experience is no longer a "companion" piece to 2014's windy Songs of Innocence but a collection of thirteen new tablets of stone from the Dublin veterans, all carved with lyrics about mortality, love, and even the actual act of performance itself.
This wouldn't be a U2 album if front man Bono wasn't back trying to throw his arms around the world in an over-earnest manner that threatens to smother the good work of his fellow band mates. The ongoing refugee crisis is mentioned, America's slide into cartoon autocracy is touched upon, and matters familial take up a lot of space here.
Bono is also facing up to mortality after a nasty bicycling accident in New York in late 2014 and, more seriously, what he calls a "recent brush with death", which he refers to on several songs here. So far, so U2 but there are also signs of life amid the naff lyrics ("For refugees like you and me/A country to receive us/Will you be our sanctuary/Refu-Jesus") and over-reaching musical bombast - the band actually sound more vital and than they have since their self-decreed comeback, 2000's All That You Can't Leave Behind.
The much delayed and much tinkered with SOE was produced by Jacknife Lee and Ryan Tedder with Steve Lillywhite, Andy Barlow (of unsung electronic music duo Lamb), and Jolyon Thomas, and the songs shimmy between traditional U2 bombast and something far deeper and self-analytical. There are cranked-up rockers like the War era Red Flag Day but there are also moments of reflection and humour like The Showman.
However, too many of these songs sound like Bono is being immolated by his self-obsession again and the listener's interest in the singer's private life will dictate how much room in their hearts they have for another paean from a very famous bloke to his wife and kids. The Landlady, with its pitter patter drums and clipped guitars, is a cute but slightly meandering love letter to his wife Ali and elsewhere he wonders how his children will fare as they enter into adulthood. Listening to all this is just a tad like having to view your mate's Instagram posts of his summer backpacking in Goa.
When poet Brendan Kenneally advised Bono to "write like you're dead" he probably didn't have such lines as "You are rock and roll/You and I are rock and roll/You are rock and roll" in mind. There are many other moments of facepalm naffness on SOE. You may even utter "Refu-Jesus!" several times but the alchemy of the band make up for the more mawkish moments.
The Edge has magicked up some of his more inventive and engaging riffs in years (Hendrix here, Harrison there) and the engine room of Adam and Larry stomp all over the place, reasserting themselves amid the sci-fi gospel tunes and ambient longueurs. Adam Clayton's bass in particular prowls the precincts like a very cool cat and the nuts and bolts mechanics of Larry Mullen's drumming often hold the over-reaching arrangements together with ballast and sheer muscle power.
That impressive gallery of top notch producers behind the desk and in the studio means that there is much sonic messing about. Some of it is thrilling; Love Is All We Have Left is a spectral prayer in which Bono tries vocoder for the first time, and the scrappy Sweet Jane styled The Showman is among the best songs here, with its self-reproofing lyric and a surprising appearance of a brass section.
Bono's chronicle of a death foretold, Lights Of Home, also has a strong melody with yearning guitars gnawing away at the edges and mucho tub thumping from Larry before it takes off into a heart-bursting anthem. But that talent for the lumbering and the inconsequential is also present. You're The Best Thing About Me is U2 by numbers, complete with distorted bass, exotic strings, a cathartic guitar solo, and some pretty ill-judged chord changes. It is only slightly less irksome than City of Shining Lights.
Get out of Your Own Way is another one of those dispiriting U2 moments when U2 sound like The Killers trying to do a U2 song only with possibly less clichés and tuneless choruses while Kendrick Lemar's satirical Old Testament fire and brimstone preaching is the best thing about the dumb stomp of American Soul.
There are many references to the past. The Little Things That Give You Away may touch on the small hours menace of Achtung Baby but it's just another plodding verse/chorus workout that collapses after a breakneck dash to an anti-climax. The Blackout, however, bounds along with all the distortion of Zoo TV era on a bassline that would support a suspension bridge.
There are also plenty of well-meaning but top heavy clunkers like Love Is Bigger Than Anything In Its Way (flatulent heroism on a grand scale) and 13 (There Is A Light), a somewhat superfluous slight return to SOI's windswept Song for Someone.
As is often the case with U2, they are at their very best when they are vulnerable. Questioning his very motivation after a recent volley of fresh attacks, Bono even sounds almost thunderstruck by a new sense of self-awareness on at least one song here. But even after this return to form, the band will remain as polarising as the polarised world they're singing about.
Despite it all, U2's staying power, self-belief and hope remains admirable after all these years. Rarely have four men with so much experience sounded so very innocent.
Alan Corr @corralan
https://www.rte.ie