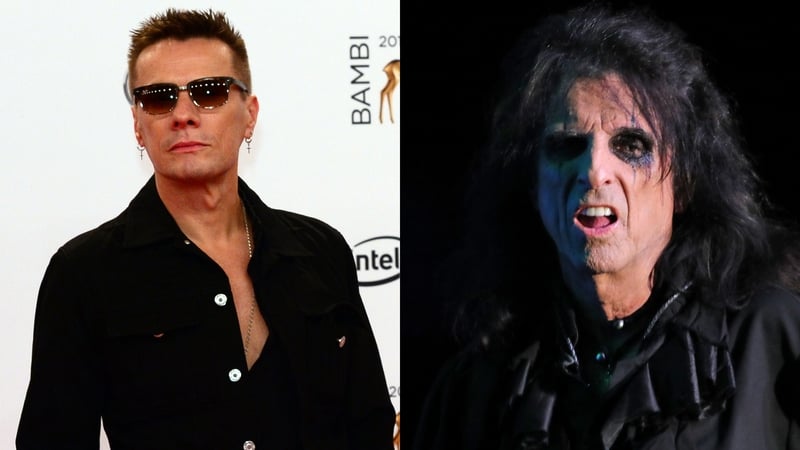 Alice Cooper will release his 27th studio album, "Paranormal", in July. The follow-up to 2011's "Welcome 2 My Nightmare" will feature guest appearances by ZZ TOP's Billy Gibbons, three members of the original ALICE COOPER band and U2 drummer Larry Mullen Jr.
During an appearance on last Friday's (May 5) episode of the SiriusXM radio show "Trunk Nation", Cooper said producer Bob Ezrin was responsible for getting Mullen Jr. involved in the sessions.
"Bob Ezrin and I sat there, and Bob says, 'What do you think about Larry Mullen on drums?' And I went, 'That's a great idea. It'll change things up so much on just the basic tracks.'"
Cooper also talked about the U2 drummer's somewhat unusual approach to recording. Alice recalled: "Larry [said], 'I wanna see the lyrics.' I said, 'Really?' He [said], 'Yeah, I play to the lyrics. I don't play to the bass.' And I said, 'That is so cool — just the idea that you're interpreting the lyrics on the drums.' So that totally makes the album another album."
Cooper added that he doesn't have unrealistic expectations for his new album, explaining that he is making records for his longtime fans, full aware that the days of multi-platinum LPs and million-dollar profits are long gone. "Those days are over," he said. "The golden age is over. I have a world of fans out there, all over the world, and it took forty-five years to build that fanbase. So when I make records now, I make 'em for those people. I'm not trying to break a new audience. I am playing an album for an audience that's already there, and I think AEROSMITH is too, and I think anybody that's established is making records for their fanbase."
http://www.blabbermouth.net