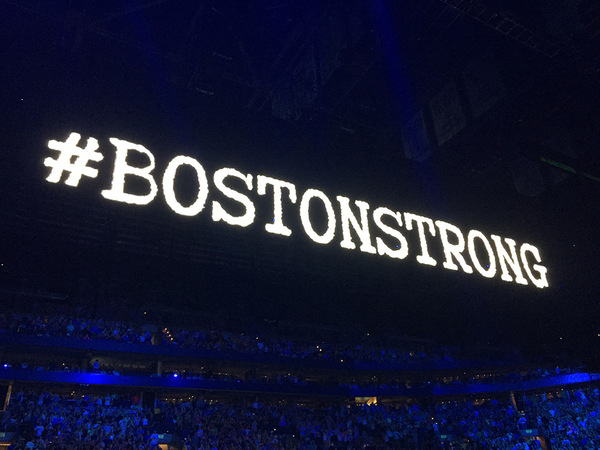 The first of four nights in Boston, and the band were welcomed as only Boston knows how, like it was a 'hometown show' as Bono put it.
He mentioned that they'd played the city 23 times, the first at The Paradise in 1980. 'It's a lucky man who can consider more than one city his hometown'.
'Like perhaps no other rock band of its era,' reported the Patriot Ledger, 'U2 excels at that mystical quality where melding words and music achieve something infinitely more meaningful than the sum of its parts. It is art that hits you at a visceral level, so that even if you may not know exactly what they're singing about, you intrinsically feel everything they're singing about.
Last night, as U2 opened a four night stand at the TD Garden in Boston, the Irish quartet had all that and more, as the Innocence and Experience Tour adds a dazzling high tech video production to the mix that gave the 20,000 capacity crowd the impression they were not just sharing the band's story, but inside of it at times.'
'I don't want to ruin too much for those going to the shows later this week,' reported The Boston Herald.'But the set is a revelation. It's anti-ZooTV tour and still mind-blowing. The band can wander from one end to the other of the arena, sometimes while inside a video wall that rises 40 feet in the air.'
Night #2: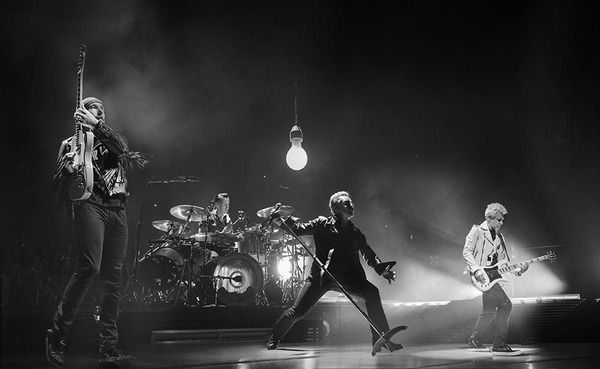 'Are we family here or not? Are we going to get out of control or not?
We were and we did.'
This was Boston, night two and as Bono put it, after a call and response version of I Will Follow, 'last night we had a great time but it turns out that it was just a warm up for tonight... 'cus we're in Boston, more Irish than any city in Ireland.'
Special moment in Bad and special memories, channelling the spirit of Lou Reed with a Walk On The Wild Side and a Satellite of Love. Remembering this Saturday thirty years ago:
'We found ourselves on a stage, Wembley Stadium, in London, and … Live Aid. We played this song… we never got to finish our set…Lou Reed was watching the television that day… he heard us singing. That concert went on to save many lives… and gave us extra purpose as a band.'
Night # 3: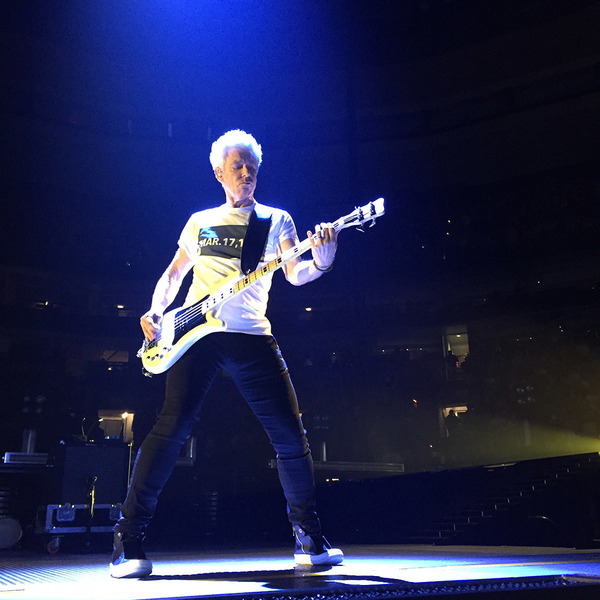 This can't be a Tuesday night. Can it? Thank you for sticking with us Boston.. 25 shows over the years. You're still here and we appreciate that'.
'When we first came to your city, we were too young to get into your bars, and in fact nothing much has changed because The Edge was not allowed into a bar last night.
The Edge gets thrown out of a bar in Boston because he's no I.D.
'They said they weren't sure if he was under 30… now the funny thing is, that Larry actually got into the bar, they didn't ask him for I.D. … so now he's really upset… bands break up over this kind of stuff.'
Great vibe at the Garden for the first show of the new week in Boston, third of four and, unbelievable as it sounds, already three quarters through the first leg of this tour. This Boston run is proving another tour highlight.
'Anyway.. some things shouldn't change, some things have to… we're gonna take you on a journey… our journey… from innocence to experience… and hopefully, back again… this is a different show than anything we've done before.'
And it was, with more changes to the set list, notably with only the second airing on the tour of The Crystal Ballroom - one of the new songs of innocence that only appeared on the deluxe edition of the record. It was introduced with a tribute to Mike Love from The Beach Boys - in the house tonight - Bono remembering carrying their albums to the first U2 rehearsals.
'Life begins with the first glance
The first kiss at the first dance
All of us are wondering why we're here
In the crystal ballroom underneath the chandelier...'
Chloe was the beautiful dancer who was up on the 'e' stage for Mysterious Ways and to capture Desire for the 'Meerkat Moment'.
As she stepped down, Gretchen stepped up, singer in a local band who the band met on arrival at the venue earlier - and now playing guitar with Edge for All I Want Is You.
Night #4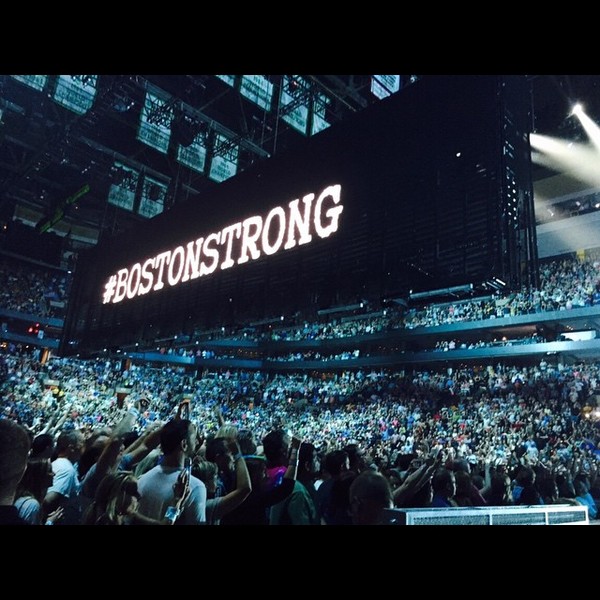 'It's no secret that the stars are falling from the sky
It's no secret that our world is in darkness tonight...'
'WATCH MORE TV.' Final night in Boston and instead of an animated Johnny Cash performing The Wanderer when the band slip off stage between 'End Of The World' and 'Invisible', the screen was alive with that electrifying mash-up of aphorisms, truisms and cliches that could only mean the return of The Fly... set to a searing, thumping, Gavin Friday mix of the 1991 classic. 'CALL YOUR MOTHER'
'Thanks for the loan of your city for the last 10 days,' said Bono introducing Iris, 'I guess we have to hand it back to you at some point. It kind of feels like our city too. I hope we didn't make too much of a mess.'
'I'm just trying to find a decent melody
A song that I can sing in my own company...'
Stuck In A Moment was back, only the fourth time out so far, followed by this.
'Your eyes were like landing lights
They used to be the clearest blue
Now you don't see so well
The future's gonna land on you...'
Volcano, back after missing eight shows and illustrating a set list that's getting more and more unpredictable - not least the songs with the band gathered on the 'e' stage.
Four nights should have been fourteen...' as Bono put it later on.
http://www.u2.com/