'THIRTY TWO YEARS AWAY...YESTERDAY.'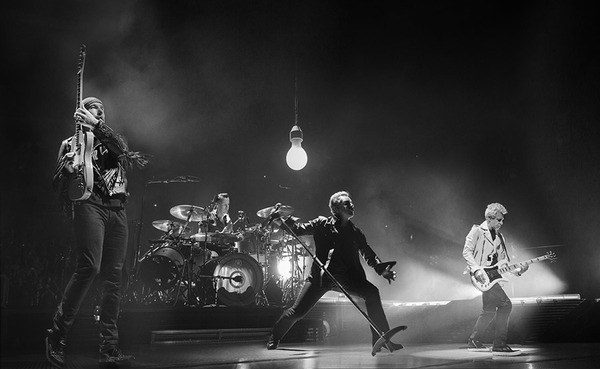 F
irst of two shows in Denver, Colorado as the U2ie Tour leaves the West Coast behind and heads into the heart of America.
It was 32 years ago - and a day - that there was a little bit of thunder and lighting in this part of the world and the band were here for another show. That was the night they played Red Rocks and recorded 'Under A Blood Red Sky' their 1983 live album. There's a snippet of John Denver's Rocky Mountain High at the end of Electric Co and Bono still has the memory in mind during Sunday Bloody Sunday, 'Thirty two years away... yesterday.'
There's more past in the present tonight. Adam has been wearing classic punk rock t-shirts on stage for the opening shows but tonights is different, bearing the date 'March 28, 1981'. At the end of the evening the mystery is solved, turns out it marks 'the first time we came here, mere children'.
'This is the symbol of surrender,' says Bono, holding both arms high during I Will Follow. 'The symbol of the night. From us to you. It's funny how you can't surrender when you have a phone in your hand...'
Anyone catch some background reading to take home tonight? @timneufeld on twitter noticed that 'The Master and Margarita' By Mikhail Bulgakov was one of the books thrown from the stage during Raised By Wolves.
'Pride (In The Name of Love'), arriving after 'Hands' has taken us out of 'Bullet The Blue Sky' is proving one of the most dramatic moments of the show. Tonight, thanking the people who brought peace to Ireland ('No-one won, that's why everyone won...') there's a special mention for the support of America in the peace process and a shout-out to Gary Hart, one-time Senator and now US Special Envoy To Northern Ireland - who's in the house tonight.
'THIS IS OUR FIRST SINGLE...'
'We're a band from the Northside of Dublin. This is our first single. This is Out of Control...'
And the second night in Denver was out of control from then on. Here's some of the highlights.
U2ie opens with the four band members on the stage and it's not until the fifth song that we realise the potential of the huge dividing wall hanging high above the length of the venue. That moment comes with Iris and this is how Bono introduces it tonight.
'Last night we had a fantastic time but we were really just warming up. Tonight we're going to use your altitude to get very high…we're not talking about the mile above sea level high... We're talking about a high as in transcendent. We're gonna change this place into something else with your help.
'You live in a beautiful city in a beautiful state. We come from a beautiful place too - over the next few songs we're going to try and transport you there, to where we grew up, on the Northside of Dublin because there's a part of us that's still there.
'There's a part of everyone that stays on the street you grew up on. I remember my bedroom was like my whole universe. And I remember the day when that universe turned cold. When, I was 14 yrs old and my mother Iris left me. But she left me an artist and I thank her for that.
'I have tried to fill the hole she left in my heart with music.
'If you ask Edge, or if you ask Larry or Adam, everyone has a story as to why we're here. That's mine. This is for beautiful Iris...'
And then there's Iris, lighting up the screen, laughing and joking, playing with friends. And down below the screen, it's a pretty fine performance too.
Two days after the 32nd anniversary of the Red Rocks show, this second night in Denver finds two tracks being performed for only the second time on this tour. Volcano . 'This is a new one, we've only played this once before..' Another shout-out for Denver here, as Bono explains how two women from the city, Alicia and Ann, were first to come to his aid after his cycling accident in New York last November. They had to be pretty firm with him by all accounts ('Sit back down on your ass!') which he quite took to.
'Alright this is a song about that little act, in a certain sense, it's called Ordinary Love. Thank you Alicia and Ann, thank you...'
Rare you get the kind of dedication we did for One this evening. Shout out to 'the best crew in the world' and in particular Alastair who works in monitors whose granny lives in Dublin. 'Doris is 105 today. Take care of yourself Doris and thanks for loaning Alastair to us...'
http://www.u2.com/